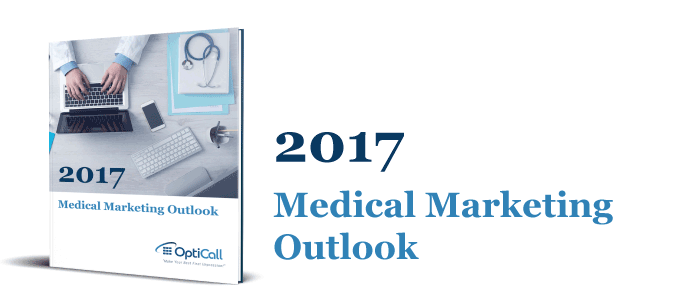 OptiCall's annual Medical Marketing Outlook contains data from over 1 million phone calls to analyze the most effective methods for converting more patient calls to booked appointments. We regularly report on this data for each one of our clients, so they know exactly what is working and where to put their marketing dollars.
We aggregate our data at the end of the year to provide one comprehensive industry report that reveals how different marketing tactics generate actual booked patient appointments across the board. We then compare this data to previous years to understand how the elective medical landscape is evolving.
Ready to see the results? Let's dive in.
2016 Medical Industry Snapshot
How did you hear about us?
% of all Booked
Appointments
Change from 2015
Referrals
55.58%

1.2%

Internet
23.85%

-0.1%

Radio
8.40%

-1.3%

TV
4.67%

2.5%

Signage & Billboard
2.43%

0.3%

Insurance
2.04%

0.3%

Print
0.51%

-0.4%

Direct Mail
0.46%

-0.2%

Event or Health Fair
0.43%

-0.1%
Referrals & Word of Mouth marketing are once again at the top of the list by a long shot.
Following a distant second is Internet marketing including social media, which makes up about 28% of booked consults.
Traditional radio remains in the Top 3, but took a noticeable dip. This could be related to major industry announcements and the release of new technology that practices are promoting more heavily on television than in the past. We believe that is also the reason signage and billboard referrals increased.
However, other traditional methods of advertising such as Print, Direct Mail, and Events or Health Fairs all decreased yet again this year, as the continued trend towards promotion on digital media continues.
The Power of Word of Mouth Marketing
Word of mouth has been called "the most powerful form of marketing." Our data confirms it is the leading tactic for generating booked appointments, making up over 50% of booked appointments. It is also the only form of marketing that has increased year after year.
Why does word of mouth continue to be so important? Consumers are overloaded with information every day, and as more companies and medical practices put more in to digital marketing efforts, the noise will just get louder. Consumers are also becoming more skeptical of company messaging and putting greater trust in what their neighbor, friend, or relative has to say.
Word of mouth is particularly important for the elective medical industry. High cost and fear associated with having a medical procedure makes patients deliberate longer, conduct extensive research, and seek as many opinions as possible before choosing to move forward. They need to trust they are making the right decision.
This can be great news for small medical practices with limited to no budget who can still play alongside their much bigger competitors. The fact more emphasis is being put on word of mouth and referrals means any practice, no matter how big, has a chance to win over patients if they provide one key element: an exceptional patient experience.
If just one of your patients has an amazing experience and gets the results they want, they likely will be willing to share their experience with others. A great review among friends and family around the dinner table can be far more powerful than even multiple online reviews.
A McKinsey report not only shows the power of word of mouth marketing, but the power it has to make or break a consumers decision to move forward at any point along their journey.
If someone hears something negative about a practice, no matter where they are in the process, they are instantly inclined to run the other way.
Key Takeaways
Nurture your physician referral network. Professional physician referrals are regarded more highly than a peer recommendation. Make it a point to build and grow your provider network by attending or hosting events, regular communication, etc.
Quality trumps quantity. Prospective patients will always value the endorsement from a person they know over a list of patient testimonials on your website or anonymous reviews online.
Maximize the patient experience. From prospect to appointment follow-up, practices should ensure every touch point and interaction with their patient provides the best impression – the kind of experience a patient cannot wait to tell their friends and family about. For more tips and best practices, check out our free webinar series.
Internet & Social Media Remain Critical
We break down Internet marketing into a variety of sub-categories including internet radio, social media, internet deals, the practice website, and search traffic.
Consistent with previous years, the majority of booked appointments on the internet are due to search traffic. Yet, we were surprised to see that category decrease a small percentage for the first time ever. That being said, internet search is still more powerful than social media, which only generated about 3% of booked appointments.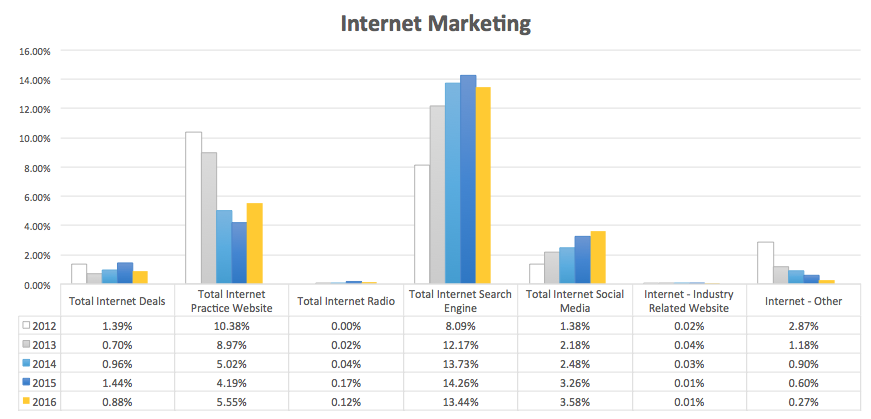 Why was social media not higher? Typically, social media is not the final catalyst to move a potential patient to action. However, it is a necessary and comfortable tool in the research process.
That being said, social media is a necessity for the patient research process. First, reviews on social media are very important for practice credibility. As we can see when we break it down, Yelp is unsurprisingly a leader in again this year because of its unbiased review platform. Facebook made a slight jump, and for the first time ever, Instagram and YouTube ranked on the charts. This could be due to a global trend toward more visual media as engagement, accessibility for video production, and content dissemination is at an all time high.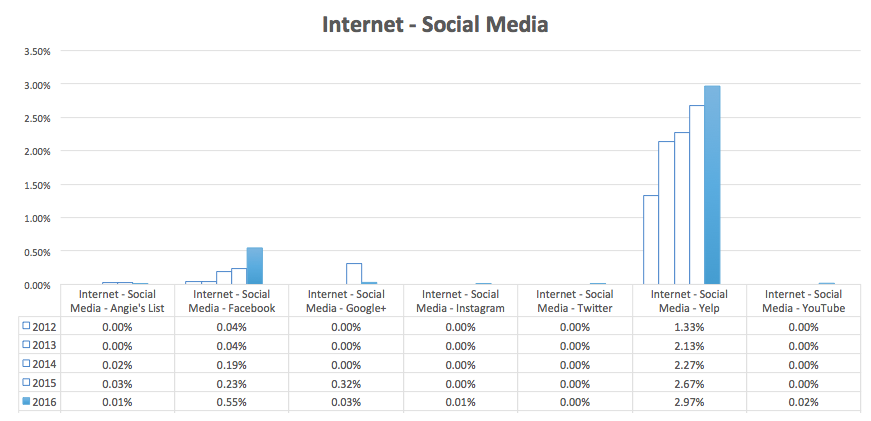 Key Takeaways
Make sure people can find you. If you want your practice to rank on the first page of Google search results when search terms like "Best LASIK" or "LASIK Surgery near me" are used, you will need to invest in paid search. However, if you are adhering to SEO best practices you can still show up in unpaid search results. You should rank fairly high on search pages when someone specifically searches for your practice name or what are known as "branded" keywords. For example, if your practice is "ABC Medical in San Diego", your site should be close to the top. It is critical that patients who are specifically looking for your practice (especially from a referral) can find you quickly and easily.
Make sure your website has the right mix of information. While the idea behind a website is to promote your service, you may lose credibility if you come across as too flashy or promotional. Focus on building trust and reducing uncertainty by featuring patient video testimonials, in depth information about the surgeon and their experience, and educational tools that will provide peace of mind.
Stay social. Even though our report shows social media may not be the reason a patient takes action, it is a critical part of their process in researching procedures. Social media is also a great tool for practices to regularly stay in front of the prospective patient who is just not ready to book. That way, when they are ready, they are very familiar with your practice. Furthermore, social media plays a very important role in internet search rankings.
Consider Yelp, and focus on reviews. If you are considering increasing your social media budget, Yelp is a highly effective tool – if, and only if, your reviews on Yelp are high. If not, focus on improving your reviews. Ask previous patients if they would be willing to rate you and share their experience. Again, the quality over quantity rule applies where a few solid reviews with detailed comments on a patient's experience make a greater impact than a lot of 5-star ratings.
Expand your social channels. We recommend if you have not jumped on Instagram and YouTube, now would be a good time. These channels are showing increased engagement across a variety of industries, and as practices are just starting to get on board, there may be less competition.
Traditional Advertising Still Has a Place
Print and Direct Mail fell again this year when it came to patients booking appointments. We like to think of this as a cost savings for practices. No longer is there a ton of money poured into printing pieces that may end up going unseen or in the trash. Plus, we know it is hard to measure the effectiveness of print advertising versus digital.
That is not to say there is no place for print or direct mail. Both can be tools to build awareness. But, we know consumers still need to learn more about you on a variety of other channels.
TV had a notable increase this year after a long running decline, and conversely Traditional Radio took a hit. We believe this can be practices educating consumers about brand new technology released this year. While larger practices have the budget for expensive TV advertising, smaller practices can use videos on their website and YouTube advertising to educate patients on a smaller budget.
Key Takeaways:
Consider switching from print to digital. If you still have a large budget for printed materials, consider switching to digital. Whether it is online advertising or creating an educational video, these initiatives will produce more bang for your buck and provide you with valuable data like number of clicks, visits, etc.
Consider digital before TV and radio. Both tools can create buzz, but they can be expensive. We recommend you consider both after you have optimized your website and invested in paid search.
Summary
In today's world, a consumer does not just contact you because they "heard your ad on radio." It is now "I heard your ad on radio, which prompted me to Google your practice. Then I checked out my social network to see if anyone had been to you, and also looked at your reviews. After that, I felt comfortable enough to give you a call."
This is what brings it all home. There is no magic marketing formula and it is important that you evaluate your current initiatives to understand what is not working.
The Missing Component Between Marketing & Booked Appointments
We will say all the investment in marketing in the world will mean very little if when a patient does call, the call goes to voicemail, they are put on hold, or they have an otherwise poor experience.
Practices tend to underestimate this critical component, and that is why they find themselves spending a lot of money on marketing and getting nowhere.

OptiCall's First Contact phone counselors are trained on all aspects of your practice to answer detailed patient questions and ease their concerns, with the one goal of helping them take the critical next step of booking a consultation.
Learn more about First Contact
Your Biggest ROI

Chances are your practice is like the vast majority spending about 90% of their marketing resources to attract NEW patients. However, it is far easier and less expensive to retain your existing clients. 
Our Boomerang program, powered by Brevium, is designed to keep your existing clients active, without having to rely on your staff to spend time on following up. Our software integrates with your database to systematically identify patients that are due for an appointment. We then personally follow-up and book them directly in your system. It's that easy.
Learn more about Boomerang
Complete Reporting
OptiCall provides full reporting on every patient lead, whether they book or not. Not only is every lead captured, you are provided analytics on your practice that take the guesswork out of your marketing efforts.
2017 is the Year of the Patient, and we are here to help ensure your practice grows. To see how we can take your practice to the next level, call us at (877) 238-0555 or request information below.