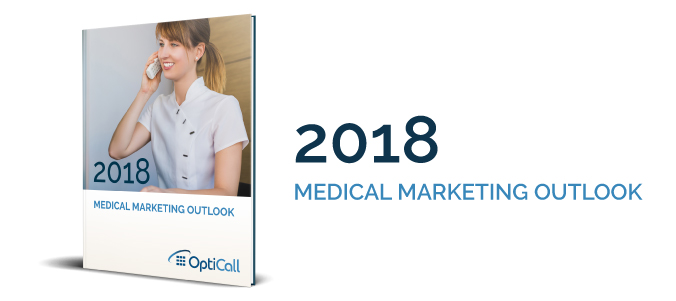 OptiCall's annual Medical Marketing Outlook analyzes data from over 1 million patient phone calls to determine the most effective methods for converting more calls to booked appointments. Our comprehensive report evaluates 10 different digital and traditional marketing tactics and compares them to performance in previous years to reveal key trends. The results help your practice build a marketing strategy for a successful year ahead. Without further ado, here are the latest insights.
When Patients Call, They're Ready to Take Action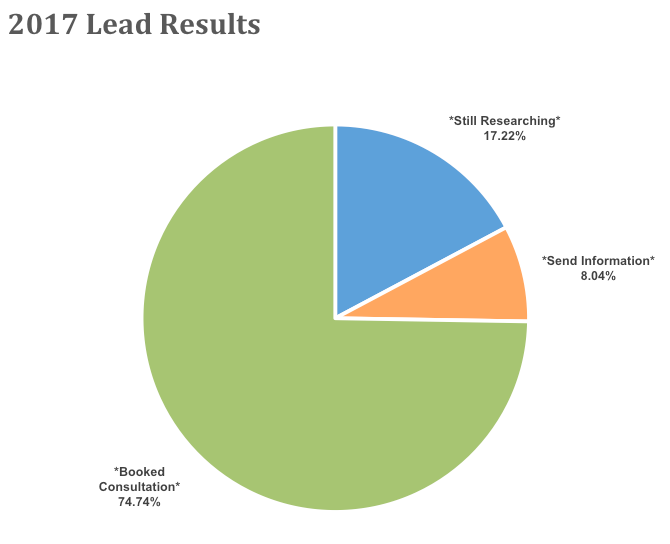 One of the most interesting insights from 2017 was 75% of patients who called OptiCall booked a consultation.
That's an incredible number, and it goes to show when patients have made the decision to call your practice, they're also ready to take that additional step of booking a consultation. All you have to do, is ensure your staff is providing the customer service that makes them feel comfortable and confident in their decision to move forward.
If you're finding you aren't seeing the same success with booked consultations from calls, it might be time to re-think how your practice manages the phone:
Are you missing phone calls? Only about 15% of callers will leave a voicemail if unable to reach someone at the time of their call. If you're practice is in the habit of missing calls, consider the missed opportunities at filling physician schedules. Make 2018 the year every call gets answered.
Are you providing an exceptional experience? The phone call is the first impression on your practice, and putting people on hold can also be a major turn off. A survey indicated about one third of people said they're unwilling to wait on the line, and 27.6% said they would only hold for 1 minute. It is critical you have the available staff to answer the phones and the time for them to address questions and concerns.
Are you offering complimentary consultations? There are two key reasons you may not have many booked consults. One, they aren't free, and two, you don't ask for them. Our clients see the highest conversions when they eliminate the cost barrier by providing free consults. We also invite them – not with "Would you like to come in.." but "When would you like to come in for a free consultation?" When it comes to mangaging the phones, staff must be proactive.
Referrals are Still King
Word of mouth referrals are still the single most powerful way to get qualified leads who end up booking a consult. Our data shows they're not only holding strong, accounting for over half of booked appointments, but they continue to increase every year.
One of the best parts about word of mouth referrals? They're essentially free marketing! Clients who have a great experience and love their results want to share their story. On the flip side, they're even more likely to share negative experiences. That's why it's important your practice provides an exceptional patient experience from beginning to end.
Internet Searches Hold Strong
Internet searches are the strongest performers in our Internet category and were up a few percentages this year. With mobile on the rise, we're likely to see Internet Searches grow even more. Mobile search is becoming so powerful that Google indicates 70% of mobile searchers call a business directly from search results, without even visiting the website.
The ability to "click to call" so easily from a mobile device is an important, tech-savvy convenience that builds brand perception and facilitates a purchase. Nearly half of mobile searchers indicated not having a call option would cause them to be frustrated and likely to turn to a competitor.
In short, make sure when patient prospects are searching for your services, you show up.
Social Media & Email Have Their Place
Although Social Media as a whole took another slight dip this year, it fills an important role between word of mouth referrals and internet research. Yelp, being a respected platform for reviews and commentary on personal experience, heads this category in driving leads followed by Facebook, picking up at a distant second. That being said, the cost for investing in Social Media is expected to continually increase. When breaking down the cost per lead, we may see many practices shift their advertising dollars toward higher performing channels.
With that in mind, a notable trend and an exceptional return on investment has been Email, which has been steadily increasing over the years. While it does not show to be as powerful as Social Media, Email still holds its own as a way to help ensure you're getting in front of consumers – particularly if they aren't regularly perusing Social Media and the Internet. A word of caution – Email is also becoming more competitive. Marketers love email because it's free direct access to prospective clients, but consumers may be easily turned off if they are receiving emails too frequently and if the content is highly promotional. Be sure to monitor your Click Through Rates to ensure your content is engaging. Also keep a close eye on the number of Unsubscribes to ensure you aren't losing email addresses that were likely expensive to obtain in the first place.
Summary
While Marketing trends may go up and down, it's clear the practices who focus on providing an exceptional experience will fair well on two powerful channels – Word of Mouth and Yelp.
It's also imperative practices are optimizing their Internet Search efforts so prospective patients can not only find you in the research process, but when they're ready to make the call, you are easily accessible from search results.
OptiCall's core business model is focused on the client experience and ensuring every call gets answered. To learn more, and to request a free practice assessment for the New Year, contact us.