2015 Marketing Review:
Customer Data, Trends & Tips to Grow Your Practice in 2016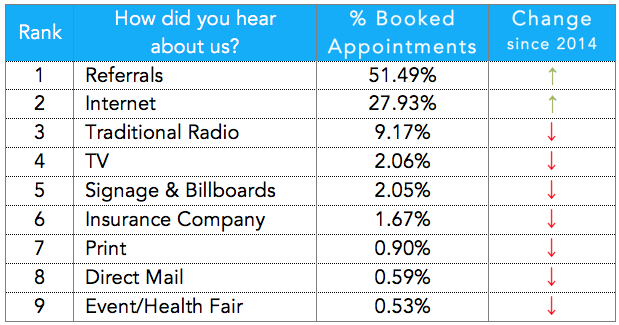 Our report for 2015 analyzes nine general areas of marketing, from traditional to digital and word of mouth, with various subcategories. We ranked each tactic according to how well it generated actual patient appointments. We analyze this information to bring you specific insights you can begin implementing in your practice – starting today.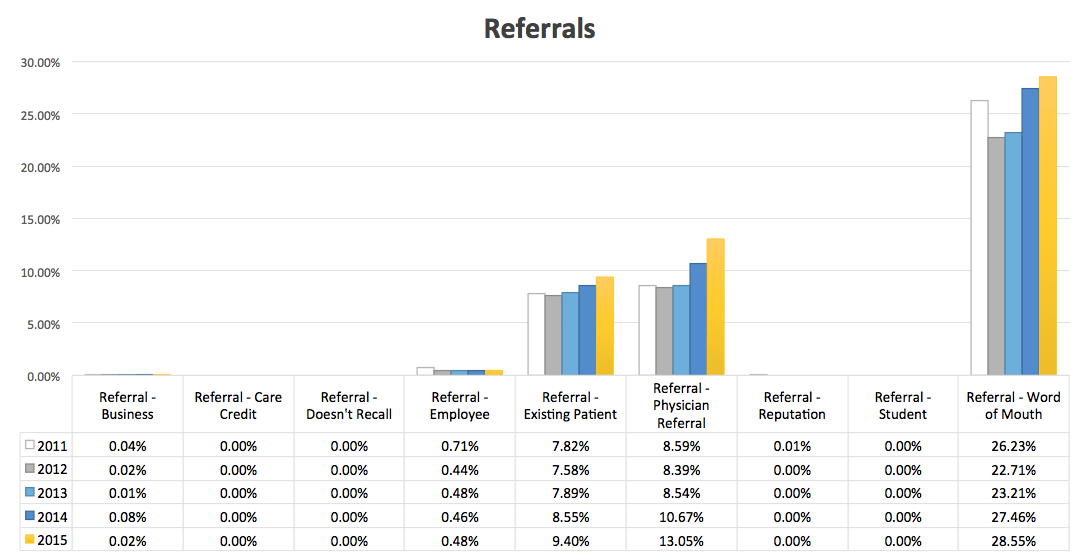 Referrals
Surprising nobody, in 2015 the #1 source of new patient booked appointments was through Referrals.  What is surprising is this is the first year where collectively referrals made up over 50% of the total number of booked appointments (an 8% increase from 2014).
There's no reason to think this trend won't continue, as online and social connectivity reaches new heights, making communication that much easier.  The adverse effect of this communal connectivity is the decreasing value – and trust – traditional advertising carries, as service purchases (such as elective medical procedures) are vetted through social channels.
Key Takeaways: 
Make it easy and rewarding for patients to provide reviews and refer friends. Offer an incentive to provide a review or referral within a certain time period, 30 days, when they are still excited about the positive experience they had.  (In our industry we have to get creative, but there are ways.)
Ensure every one of your staff members values providing an exceptional customer experience. You see your patients on a limited basis and it is important they interact with trained and personable care providers every step of the way.
Get serious about social media.  You'd be surprised how many practices put little to no effort into managing their social channels.  It's where your patients are talking about you, and for many it will be the first place they come into contact with your practice.  Plus, with new efforts such as Facebook's search engine and Instagram's in-app purchasing capabilities coming down the pipeline, the shift towards social channels becoming all-encompassing internet hubs is happening faster than you can keep up. It's time to go all in.
Focus on relationship marketing.  The goal here is to build a more meaningful connection with a core group of your customers.  Through meaningful conversations, engagement, loyalty rewards and reciprocity, you can create your own army of 'brand ambassadors.'  Empower them to be your voices on the street and reward them for their participation.
Take care of your physician referral network.  One (positive?) side effect of omnipresent advertising and digital connection is many people are finding new appreciation in simple face-to-face communication, and a simple referral from someone you trust.  Many people are simply tired of doing the research and don't trust all the noise out there, and the good words of a trusted physician are all they need to hear.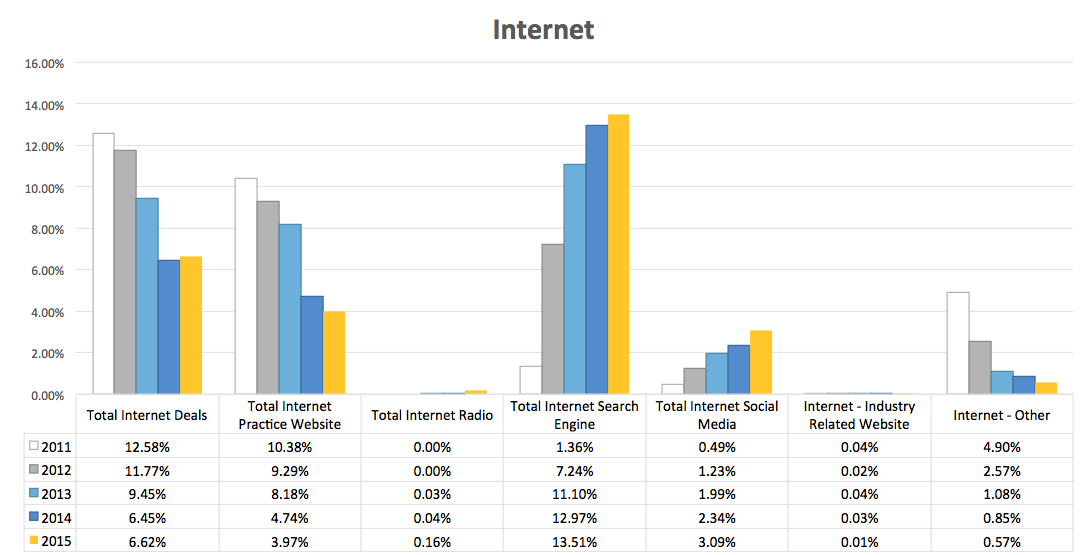 Internet Leads
At a distant #2 is Internet Marketing (including Search Engine Optimization, Social Media, Practice Websites, Internet Deals, and Internet Radio), which makes up 27.93% of booked conversions (a slight increase from last year).
Social media may be a good tool for awareness, but our data shows that the major social media sites Facebook, Twitter, YouTube and Instagram only made up about 1% of booked appointments.  This is interesting because we know how influential social media can be for driving both opinion and direct web traffic.  However, what it tells us is practices haven't found a consistent way to monetize their social media platforms into tangible results.  Sounds like a perfect opportunity to test some new booking strategies in 2016!
Yelp continued to rise in influence by generating 2.5% of all booked appointments, further reinforcing it's position at the forefront of the reviews site you need to pay attention to.
Lastly, internet deals such as Groupon, LivingSocial and Amazon have been rapidly declining from their boom years, but still made up a decent 6.6% of all booked consults.  However, we caution anyone who hasn't tread already to stay out of those waters.  Many of these sites (such as Amazon Deals) have shuttered their windows and the future doesn't look bright for the remaining players.  We think it's a case of too much too soon….

Key Takeaways:
Adhere to SEO best practices, particularly with Google. Consider paid search ads to boost your presence for key procedures.
Try to think of new and creative ways to engage your social audience to book appointments directly.
We were surprised at the low percentage of leads directly generated at the practice website.  We encourage you to offer both chat and scheduling options online, and make sure they're available on mobile devices.
Put a system in place that helps to identify and ask happy patients to provide a positive review for your business, particularly on Yelp.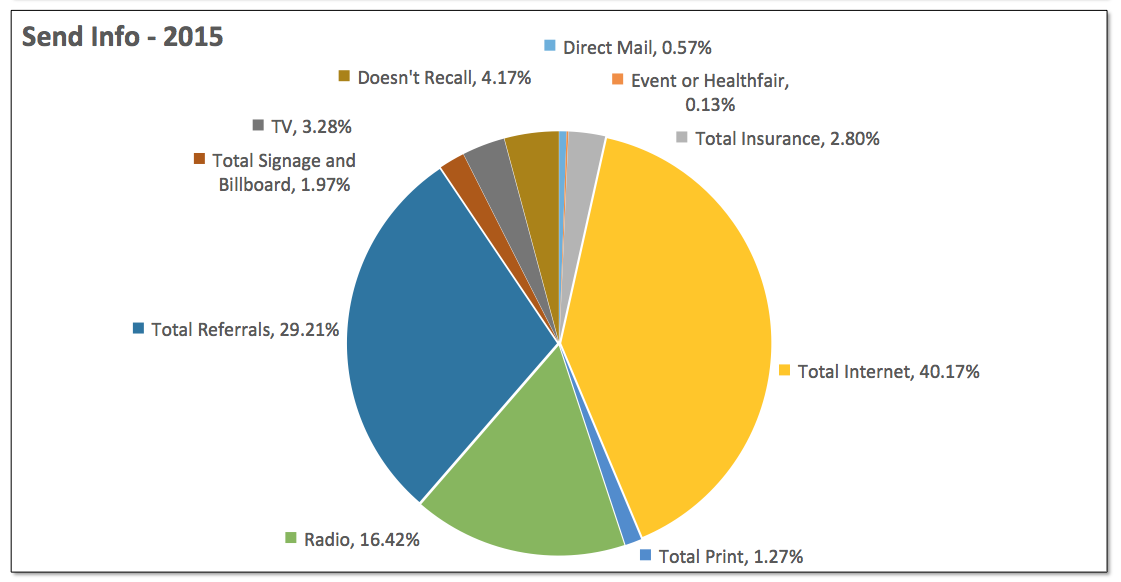 Traditional Advertising
Traditional advertising methods still hold a place in our heart, although their influence is dwindling.  Radio is still the preferred (and most successful) medium, making up 9% of all booked appointments.  But across the board, (TV, Billboards, Radio, Print…etc) leads continues to diminish.
However, when we look at the breakdown of people who contact a practice but weren't ready to schedule, that number increases significantly, with Radio alone accounting for 16.42% of all leads who didn't schedule.  What that tells us is 2 things:
 That traditional media can still work to build awareness
 That people use traditional media as a jumping off point for research, not the reason they booked an appointment 
Key Takeaways:
This might be the most important observation, because it sheds some light onto the current advertising landscape, and frankly, why it's so hard to trust these numbers taken at face value.  Everyone wants to know what the silver bullet is, and the answer is everything.  Because it's all important, and it's even more important that you do it well.
No longer is it "I heard your ad on radio."  It's "I heard your ad on radio, which prompted me to google your practice.  Then I asked my social network if anyone had been to you, and then I checked out your reviews.  After I felt comfortable, I called you."
I suspect many of you know this already, and it's why you're all feeling so exhausted after last year.  It's a lot of work, indeed, but the more we focus on these detailed efforts collectively, the better and more efficient we will become.  Besides, there's plenty of companies out there that can help (just ask us and we'll recommend some of our favorites).
Either that, or just wine and dine your referring doctors, and let them do all the heavy lifting!
How OptiCall Can Help: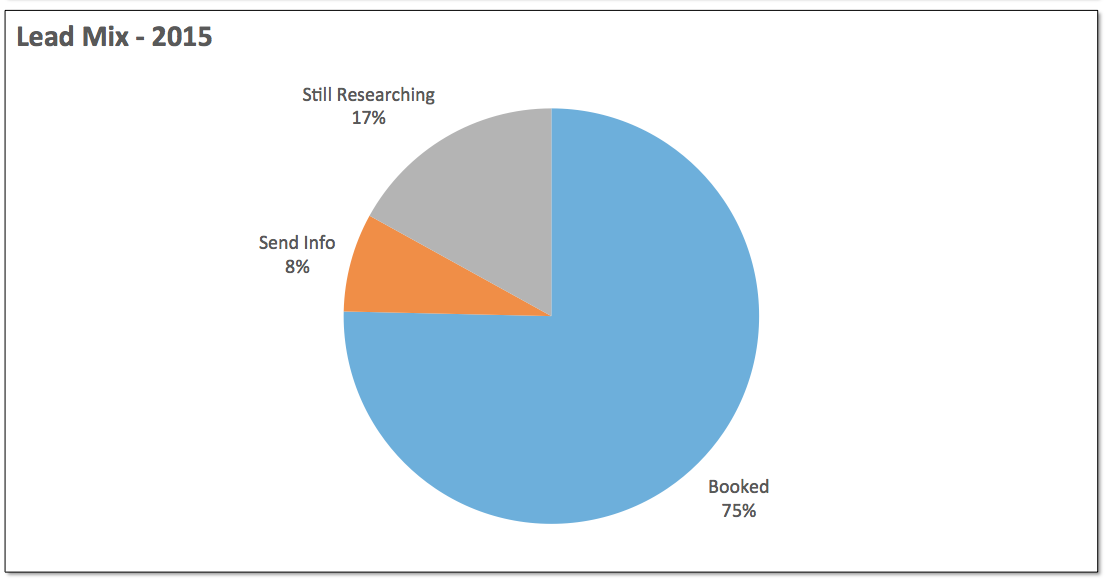 – In 2015 OptiCall Scheduled 75% of every new inquiry we received into a booked new patient appointment for our practices.  83% of inquiries shared their contact information in some manner to become a viable lead. –
With the amount of different types of marketing, consumers are constantly inundated with marketing "noise." This year, it is important to remember the difference between "noise" and "buzz". Practices that cut through the clutter by maximizing the customer experience will have patients who are happy to share their story.
OptiCall is committed to providing extensive training to our client specialist team to be able to effectively identify patient needs, address questions and ease concerns as one of the first points of contact for many patients.  2016 should be an exciting year, and OptiCall is ready to ensure your success.
Contact us to learn more and to get started with a free practice phone assessment.