OptiCall's annual Medical Marketing Outlook analyzes data from millions of patient phone calls and web leads to determine the most effective ways medical practices are attracting and converting more prospects to booked appointments.
Our comprehensive report evaluates traditional and emerging marketing channels from 2019 and compares them to performance in previous years to reveal key trends.
Ready for results that can empower your practice with strategies for a successful 2020?
Let's dive in.
2019 Lead Results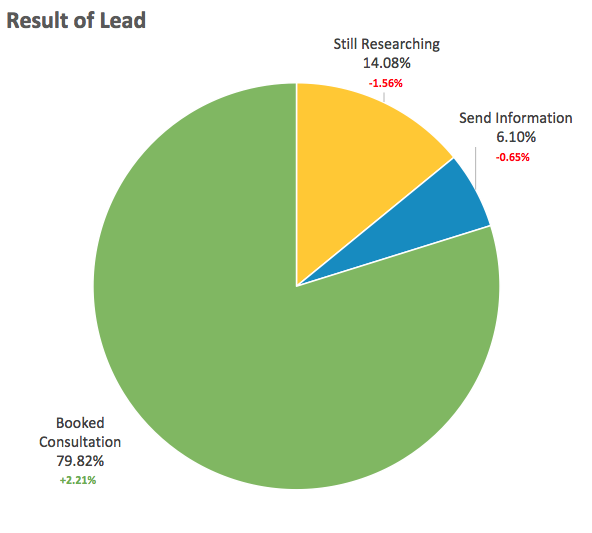 2019 data shows nearly 80% of prospective patients who spoke with an OptiCall patient counselor booked a consultation*.  Not only is that a significant number of prospects contacting a practice and booking an appointment, but that's a 2% increase from 2018. There were also slightly fewer prospects who were still researching or wanted additional information.
So what does that mean?
Prospects Are More Ready to Convert
The fact there was an increase in booked consultations tells us when prospects are contacting a practice, they are more ready and willing to take the next step.
When we've talked to practices who were worried their lead volume was down in 2019, we encouraged them to look at their conversion rate. What they found was a story consistent with our data – prospects may have been reaching out less frequently, but when they did, they were ready to take the next step.
Before you make significant changes to your 2020 marketing strategy, be sure to consider the full picture. Lead quality outweighs volume.
Availability=Accountability
It's important to note, no lead matters if your practice isn't responsive.
1. Is your staff letting calls go to voicemail? Only about 15% of callers will leave a voicemail if unable to reach someone at the time of their call. If your practice is in the habit of missing calls, consider the missed opportunities at filling physician schedules.
2. Does your staff often have to put calls on hold?  Survey data shows about one third of people said they're unwilling to wait on the line, and 27.6% said they would only hold for 1 minute. Staff not only needs to be available to answer every call, they need to be able to spend a few minutes addressing questions and concerns.
Our First Contact call handling program has dedicated staff whose sole job is answering inbound calls from prospects. They do not multi-task or have patients waiting for their attention. Instead they spend an average of 5-8 minutes with a prospect, answering all their questions and providing them with every detail they would need to know in order to take the next step of booking a consultation.
If your staff doesn't have the time and dedication required to manage prospects, it could be costing you.
3. How quickly are you responding to web leads? When it comes to leads from online forms, "speed to lead" has never been more critical. In analyzing data from over a dozen practice assessments, Opticall found:
Not one had a consistent process in place for response time or method.
An astonishing 33% did not have properly functioning forms or were not actively monitoring their submissions.
Our Capture web response program was compared to a generic system for follow-up during a period of 3 months. Results of that study showed the Capture program:
Reached 20% more patients
Booked 20% more appointments
2019 Marketing Channel Performance
What channels converted the most leads? To answer that question, it's important to kick-off with a short review of the 2018 data.
In 2018, we saw two significant shifts:
A significant reduction of Referrals (-8.51%)
Which correlated almost exactly with a spike in Internet (7.43%)
We noted this was likely a result of the mobile shift in communication, where consumers are increasingly turning to their phones for answers in "micromoments" or at the exact time they want to find answers, connect with a business, or take action on a purchase.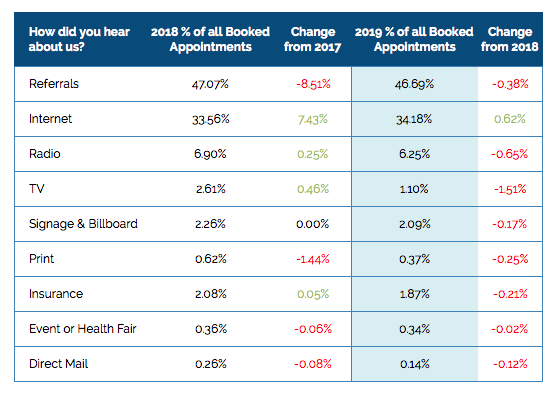 Interestingly, in 2019 we didn't see nearly the major shifts. However, internet was the only upward trend. Every other channel showed a slight decline – a first for any one of our annual reports. For further insights, we decided to also analyze and compare the results of the phone or web lead – how many prospects ended up booking an appointment, requesting information, or indicated they were still researching?
Word of Mouth Referrals Still #1
While we've pointed out the downward trend for Referrals continuing this year, it still holds the #1 spot – consistently bringing in around half of all booked consults each year.
This underscores the importance of the patient experience as it relates to peer influence. When a patient undergoes a medical procedure that is life-changing – they get the body they've dreamed of, the ability to see perfectly, etc. – their family, friends and immediate circle of people are going to be the first to be part of that experience. Even if those people may not be in the market for a medical procedure, they have their own network of people who may be. So when their friend is interested in LASIK, it could be a patient's friend who recommends you even though they never stepped foot inside your office.
The power of referrals is incredibly strong.
But Let's Acknowledge the Strong Contender
The entire Internet category contributed to roughly 1/3 of leads. The strongest subset, Internet Search, has been rising in recent years, and in 2018 jumped to over 41%. In 2019, when nearly every other Internet category actually saw a slight decline (including Social Media), the Search Engine channel increased yet again.
While it's inching at bringing in almost half of Internet leads, the percent increase for Search Engine was far lower this year than the jump we saw in 2018.
Internet Search is a unique tactic. Rather than serving an ad that interrupts a person in their daily habits – whether it be a social media ad appearing in their feed or an ad they may hear between songs on the radio – Internet Search is a tool to solve a problem at the moment the person is seeking information.
When they are searching for "LASIK in my area" or "Best rhinoplasty" and discover your website, you have the perfect opportunity to catch them in their micro-moment when they are actively seeking a resolution to their problem.
That's an important distinction we believe may be the key to why practices are seeing such success from Search Engines in driving quality leads ready to book an appointment.
Factor in the ability for them to "click to call" from their mobile device, and not only are they able to easily find you in their search, they can get in touch with you immediately.
Key takeaways:
1.) Paid search ads, where you pay to be placed at the top of search results when certain keywords are searched, are an important part of your marketing strategy for driving quality leads.
2.) Your marketing strategy needs to be optimized for mobile. If they click on your website from the internet, you need to ensure they are easily able to navigate your website on their mobile device, and be able to quickly contact you by phone or web form.
Social Media: We Told You So
While Social media as a whole actually decreased slightly this year, there are some notable trends. To no surprise, Yelp came in strong again as the leading Social Media channel, but it saw a significant decline from previously bringing in over half of Social Media leads in 2018 (53.56%), to roughly 47%.
Over the years, Yelp has consistently been a respected platform for reviews and commentary on personal experience. But we believe this decline could be due to reviews that are posted within Google Search Results – which again points back to the strength of Search Engine that we noted earlier.
But ok, now is our time to say "we told you so". In 2018, we saw a notable boost in Instagram and predicted it would be the channel to keep an eye on. Sure enough, in 2019 it more than doubled its percentage of leads to nearly 12%, now easily approaching the heels of Facebook. This trend is likely due to more practices adopting Instagram to cater to Millennials and Gen X.
Final Thoughts
While Marketing trends may go up and down, it's clear the practices who focus on delivering an exceptional client experience that generates Word of Mouth Referrals and positive online reviews, as well as optimize their Search Engine presence, will have the best chances of generating quality leads who are ready to book.
That being said, a systematic process where staff is available to not only quickly respond, but spend adequate time with prospects, is also important.
So how can you better cater to your prospective patients in 2020?  
Every practice is different, but we recommend a high-level checklist:
Just because some marketing channels may convert better than others doesn't mean you should ignore them. Make sure you actively post and advertise on social media, monitor online reviews, regularly update your website, and have a regular cadence of eblasts to offer multiple touchpoints.
Give them several options to get in touch with you, so they can choose what's best for them: Live-person phone answering, HIPAA compliant text communication, online scheduling, or chat.
Add fields to your online forms that enable them to take different actions that indicate INTENT – take this self test, get a free procedure quote, view customized results, get pre-approved, etc.
Develop and train your staff on the process for quickly answering calls and responding to leads. Let them know this is a priority for your practice.
Measure and report results of marketing and conversion performance.
Increase Your Phone and Web Conversions With The Help Of OptiCall
For over 15 years, Opticall has been the medical industry leader in providing solutions for improved customer service, engagement, and conversion of initial patient contacts.  Today, we are proud to offer solutions that help your practice better handle almost every form of patient communication – phone calls, text messaging, web leads, online scheduling – with industry-educated counselors and software solutions that seamlessly integrate with your practice.
So, How's Your Practice Performing?
Now's the time to understand how well your practice manages inbound calls and online leads. OptiCall's free practice assessment can give you data-driven insights that can help you course-correct performance in 2020 and beyond.
Make 2020 the year that every one of your leads is managed effectively. Complete the fields below to request your free practice assessment:
*This was the combined 2019 average conversion % across all the medical specialties we work with, including Ophthalmology, Plastic Surgery, Bariatric Surgery, Stem-Cell Therapy, Cosmetic Dentistry and more.