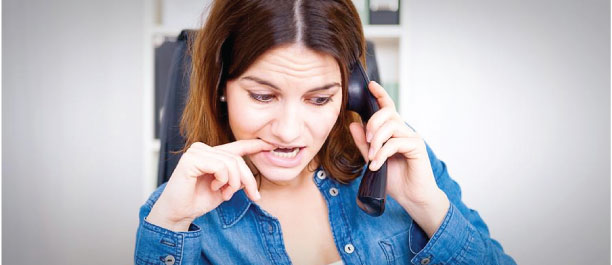 We see it all too often – phone calls that go a little something like this:
Staff: "Hello, Dr Walker's office."
Caller: "Hi, I just wanted to get pricing for LASIK"
Staff: "We charge around $2,300-$2,500 per eye."
Caller: "Ok, thank you."
End of call.
And most often, that's the lead that gets away.
We see elective medical practices who have consistently missed opportunities to treat more patients and grow their businesses when they simply "answer the phones".  It is critical your staff engage and sell your prospective patients at the most critical touch point – the initial phone call.
After handling over 2 million phone calls, and analyzing hundreds of phone assessments, our OptiCall training team has identified 6 of the most common mistakes costing medical professionals new patients, and the simple techniques to fix them:
1. Improper Greeting
Every call should be answered with a friendly greeting that includes the practice name, staff member's name and a "how may I help you?" A perfect example would be, "Good morning, thank you for calling ABC Cosmetic Surgery. This is Kimberly. How can I help you today?"
Just as important as what you say, is how your say it. A friendly and upbeat attitude communicates a warm and caring environment. Smiling (even though not seen over a phone conversation) can help avoid sounding monotone or robotic.
2. Not Obtaining the Caller's Contact Information and Details

One of the fundamentals we teach in our A.C.E. Training program is to always try to ask the following 4 questions to get the patient's contact information and key details:
Name: "May I ask your name?"
Phone Number: "What is the best phone number to reach you?"
Patient Type: "Are you a new patient?"
Referral Source: "How did you hear about us?"
Obtain this contact information and record it in a database or customer management system. This will allow for future follow-up, and will also provide important metrics to determine call performance and effectiveness of marketing efforts.
3. Information Overload
We often find staff members will provide an information overload by telling callers everything they know about the practice or a procedure right up front. This tends to overwhelm the patient. It also tends to get to pricing too early, before the patient gets to know the value the practice can provide.
Before "telling", ask additional exploratory questions to gather as much information about the patient as possible. Great examples of exploratory questions would be:
"What motivated you to call us today?"
"Can you tell me about the problems you are having?"
"What are your goals in having this procedure?"
These questions help prompt the right information to be provided at the right time. It also creates engagement (key word) with the caller, and helps them to know how your practice is different on factors other than price.
4. Negative comments
Avoid comments that may have a negative connotation. Saying simple comments such as "That procedure is a little pricey…" or "results for that may vary" may not sound all that bad, but they aren't necessary at this point in the sales process and can be off-putting to a patient who is just getting a feel for the practice.
Instead, find opportunities to say something positive about the physician, the practice or the procedure. Some good examples:
"Dr. Smith is really experienced with that procedure."
"Dr. Johnson really cares about addressing all your questions and concerns during the consultation."
"Our patients have been very happy with their results."
"There is no downtime for that procedure, and often times patients say they have minimal discomfort."
Positive comments help patients get to know the practice and can alleviate some of their hesitations in moving forward.
5. Not Selling the Consultation

The main end goal of every call is to schedule the consultation. Yet, we see practices simply answer questions, without ever mentioning the consultation. It drives us crazy!
Sell the consultation by providing step by step details on who the prospective patient will meet with, how long the appointment will be, and how they can prepare. Follow up by asking for the appointment. Here is a great example:
"The first step is to come in to our office for a consultation that is free of charge. We are going to be performing a full dilated exam to see if you are a good candidate. You can expect to be with us for about an hour. Your eyes will be light sensitive so we recommend you bring your sunglasses with you. While you're here, you'll get a chance to meet with our refractive coordinator, our LASIK technician, and our surgeons who can answer all your questions. To help us get the best results, we'd like you to not wear your contact lenses a day before the exam. So, would you prefer the morning or afternoon for your consultation?"
6. No follow-up
If a caller is not ready to book an appointment for a consultation, that doesn't mean they aren't still interested. Have a brochure, offer, or coupon that you can request to send to them. This not only serves as another touch point, but also gives reason to collect their email and/or physical address for further future follow-up.
Avoiding these mistakes and implementing effective sales techniques will empower your staff to go from "simply answering the phones" to building a long-term relationship with your prospective patients.
Want specific insights on how your practice can convert more calls to patients? Schedule a free phone assessment.

Empower your staff to sell your business. OptiCall offers the A.C.E. (Actual Consumer Experience) Training that empowers your staff with proven techniques on how build relationships with clients to grow your client base. Contact us to learn more.